MK Dons Visit Abbeys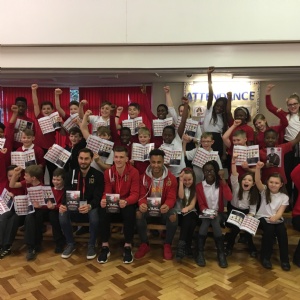 We were thrilled to welcome three first team players from MK Dons to Abbeys.
We were lucky enough to have a recent visit from three MK Dons players, who inspired the children with a question and answer session about their lives as professional footballers in our community. Nicky Maynard, Ed Upson and Paul Downing spent time sharing how they became footballers, from being spotted at primary school age, and talked about the challenges and rewards of their roles. The children asked some great questions. We were all impressed to learn that Nicky Maynard (ex West Ham and Cardiff City) had scored his 100th career goal at the weekend, and that all players have their own personal parking spaces at the Dons' stadium. It was lovely for the children to learn more about the players' dedication and commitment to football, as well as some of the details about their day to day routines and training. The players also spent time with the Abbeys' football teams after the whole school assembly session, signing programmes and posing for photos. What a great afternoon!